Worlds Elsewhere Theatre Company
Current Performance
Winter Spooky Chilling Tales Well Told
Have you ever heard a noise on a winter's night and wondered, is that the wind blowing, or a branch tapping against the window, or is it something else? Winter is a spooky time of year, and we want to lean into it, with a series of eleven scary stories read by some of your favorite Rep members. Click the banner above for the full playlist.
---
Company News
News on SKM Donations!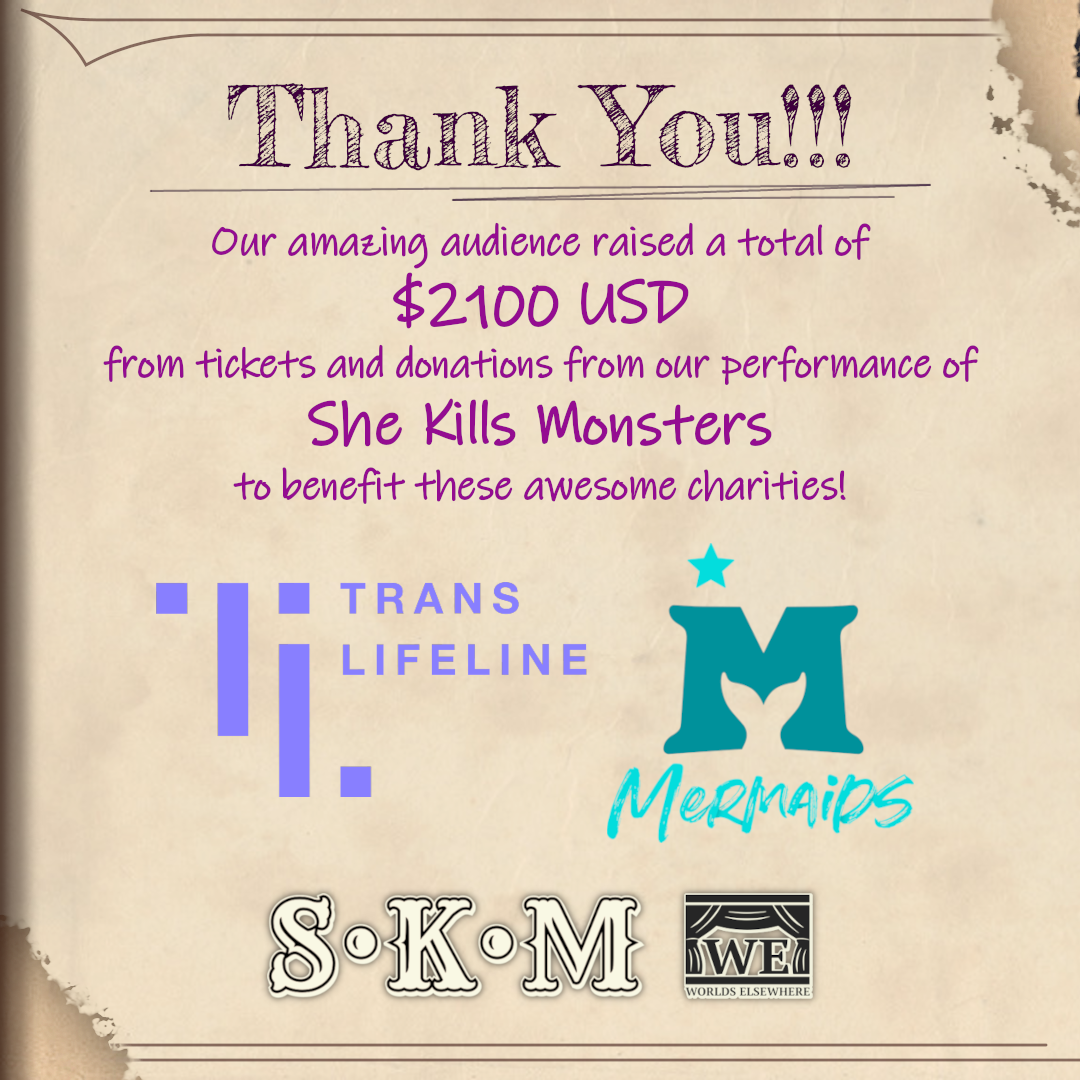 News on donations! Worlds Elsewhere Theatre Company has officially made its donations of the proceeds from "She Kills Monsters" ($1050 USD each) to our two charities: Trans Lifeline and Mermaids. Go check out the amazing work they do (and donate, too, if you can), and keep an eye out for other charity projects with WETC!
Native American Heritage Month
November is National Native American Heritage Month, and WETC is honoring American First Nations peoples and cultures by highlighting indigenous theatres, theatre-makers, and artists on Tuesdays and Thursdays throughout the month, with a round-up post in early December.
For more about NAHM, check out the federal website; for more about the National Day of Mourning (an alternative to Thanksgiving day observed by many US First Nations peoples), see UAINE.
(WETC is based in New York City and Seattle, on lands home to the Munsee Lenape, Duwamish, and Coast Salish peoples.)
---
WETC Supports BLM and Black Artists
Since Juneteenth 2021, Worlds Elsewhere has maintained a list of theatres and theatre organizations in the USA that bring Black stories to the stage, told by Black playwrights, performed by Black artists.
Keep in Touch
Worlds Elsewhere is actively seeking new productions written for the Socially Distant era of theatre. Watch this space, follow us on Facebook, Twitter, and Instagram, subscribe to us on Youtube, and sign up for our newsletter for more information about all our upcoming mainstage productions and events!