Worlds Elsewhere Theatre Company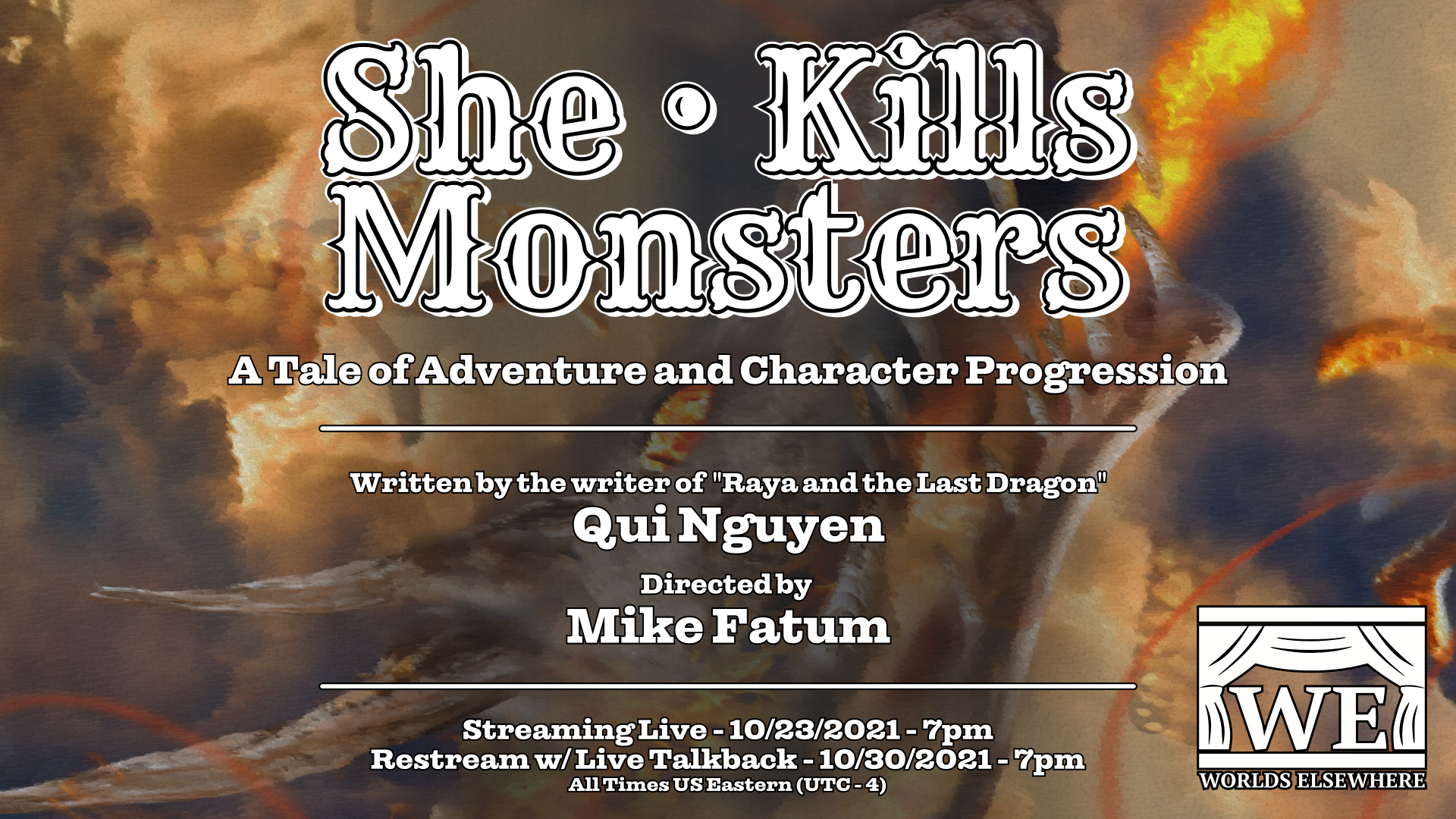 Livestream:
Restream with Live Talkback:
all times US Eastern
She Kills Monsters (Raya and the Last Dragon), written by Qui Nguyen, is the story of Agnes, a young woman dealing with the death of her sister, Tilly, by playing a Dungeons & Dragons adventure that Tilly wrote before her passing. It is a journey of self-discovery set in 1995 Ohio, and features a diverse cast of characters in both the real world, and their fantasy alter-egos, as envisioned by a nerdy 15-year-old girl.
Directed by Mike Fatum, Worlds Elsewhere Theatre Company is proud to announce our Fall 2021 Charity Stream, benefitting Trans Lifeline and Mermaids UK – two charities aimed at providing trans peer support and community care.
Buy Tickets on OnTheStage Now!
RSVP on our Facebook Event!
View the Program
"She Kills Monsters" is presented by arrangement with Concord Theatricals on behalf of Samuel French, Inc. www.concordtheatricals.com
---
Support Us
Check out our Support Us page for information on how you can help Worlds Elsewhere!
WETC Supports BLM and Black Artists
Since Juneteenth 2021, Worlds Elsewhere has maintained a list of theatres and theatre organizations in the USA that bring Black stories to the stage, told by Black playwrights, performed by Black artists.
Keep in Touch
Worlds Elsewhere is actively seeking new productions written for the Socially Distant era of theatre. Watch this space, follow us on Facebook, Twitter, and Instagram, subscribe to us on Youtube, and sign up for our newsletter for more information about all our upcoming mainstage productions and events!