Worlds Elsewhere Theatre Company Presents:
MacDeath
Premiered
WETC is proud to present a new charity project, and the soft open of the Worlds Elsewhere Theatre Company 2022 Season:
On January 22nd, 2pm US ET, Jamie McConnaughy and a cast of WETC players will be playing the D&D 5e module "MacDeath", written by Daniel DeFazio, in which a team of intrepid thanes loyal to King Duncan challenge Macbeth and his cronies for the throne. The game will be streamed live on the WETC Youtube channel as a charity stream benefitting Amnesty International and WETC.
Be bloody, bold, and resolute!
Company Artistic Statement
Theatre, given its nature as a medium made of people in space, has always been a first victim during times of plague.
When the COVID-19 pandemic spread through the world at the start of the year 2020, theatres closed, and millions were left unemployed.
Worlds Elsewhere Theatre Company was founded during this terrifying time. It is our mission to create theatre without a theatre - to create a space online that can serve as a theatrical one. Our company shall create an online space that serves the same function that theatre has served for millennia – as a place of catharsis and healing.
Support Our Charity
MacDeath was streamed on January 22nd to support Amnesty International, one of the biggest and most impactful human rights organizations on the planet. While we are no longer collecting donations, you can donate them directly on their website. WETC fully supports their mission of global human rights, and are honored to support that goal. A full list of stream donors is included at the end of this program. Our amazing donors raised $787 during the stream and the remainder of that weekend, 80% of which will be going to Amnesty (the remaining 20% will go towards WETC's upcoming projects).
Support WETC
Donate to support our work! Head to our PayPal, or scan our Venmo QR Code, if Venmo is your preference.
We understand if you, like many people, are not in a position to offer your financial support at the moment; this is a difficult time. If that is the case and you would still like to support our mission, any of the following steps would be very welcome assistance:
About This Production
When I first conceived of doing a charity stream of MacDeath with World's Elsewhere, I figured I'd get some of my friends who are members involved, maybe get a retweet from the official twitter account and just sort of handle the rest myself. By the time we actually got to the final live stream, I was floored by how much everyone had stepped up to help me. Our cause, Amnesty International, is an important one, both to me and to the world at large, and I'm so proud of the work everyone did to make sure it was the best damn version of Macbeth, as interpreted by D&D, it could be. I hope you enjoy watching it half as much as we enjoyed playing it.
~ Jamie McConnaughy, Dungeon Master/Director
Cast and Crew
Players
Sam Marchiony (she/they) as Greer Moir MacDuff, Thane of Fief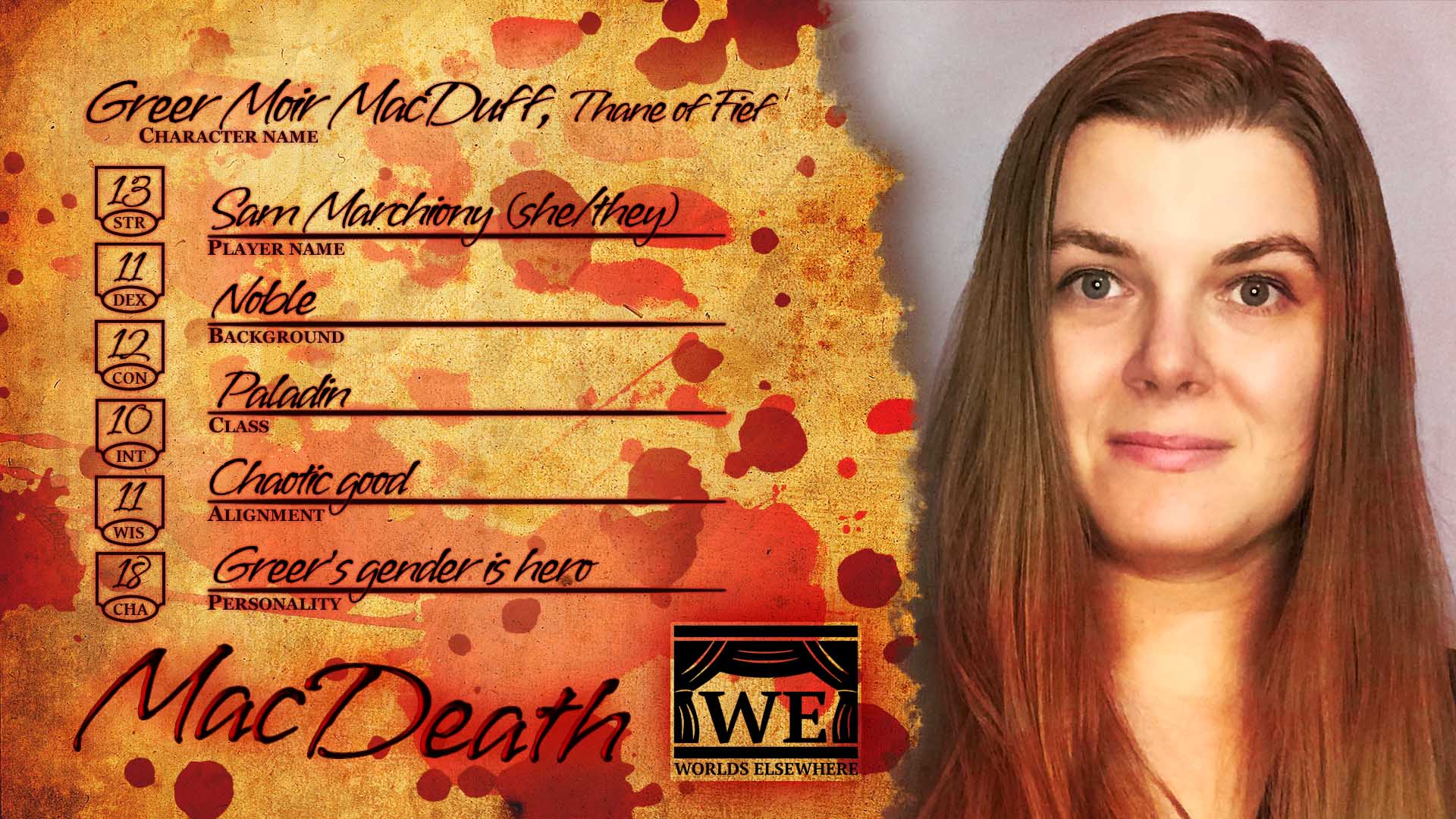 Conor Duffy (he/him) as Fergus MacUarraig, Thane of Angus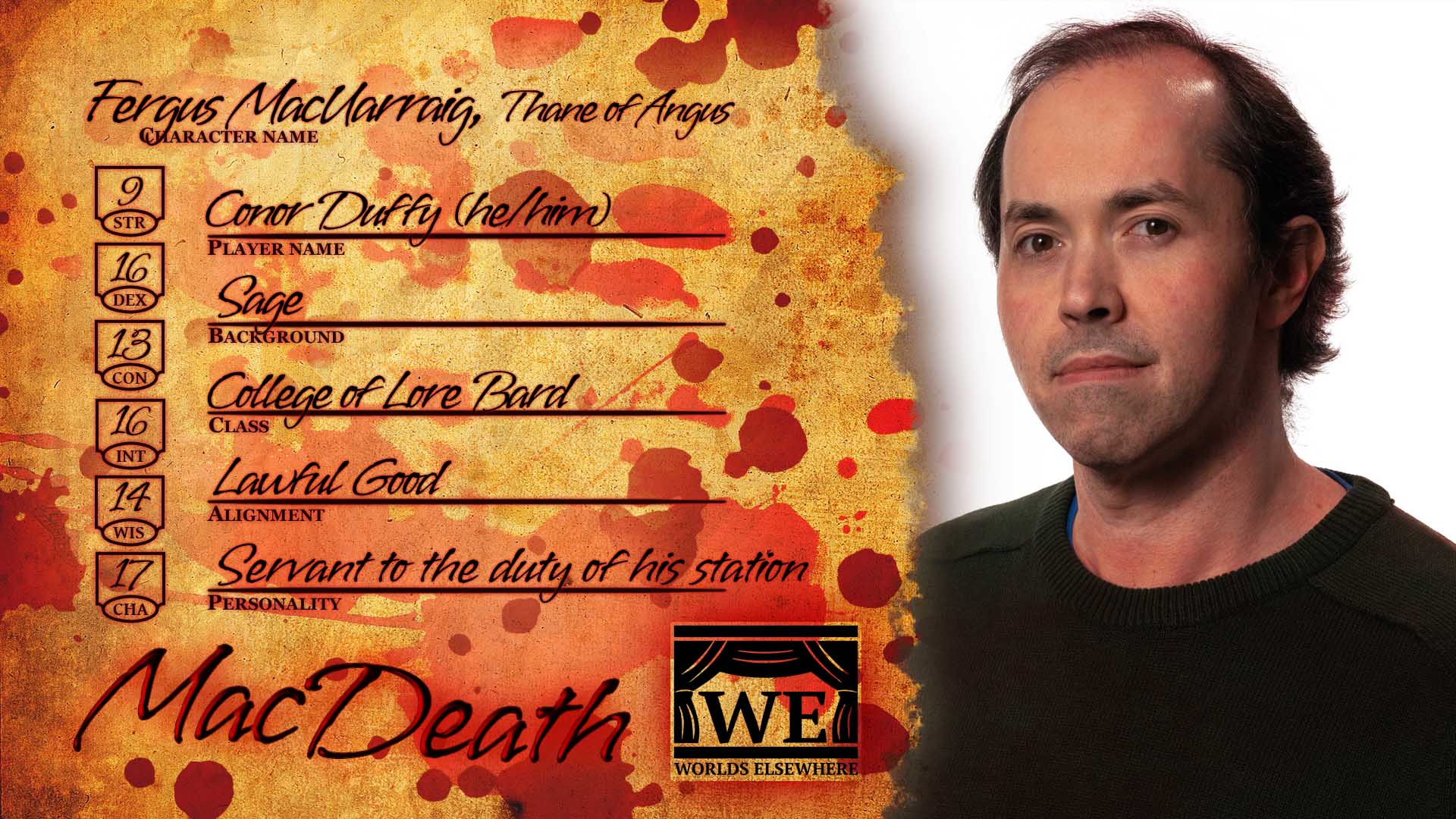 Addie Greenberg-Sud (she/her) as Eibhlin Mac Aidhe, Thane of Caithness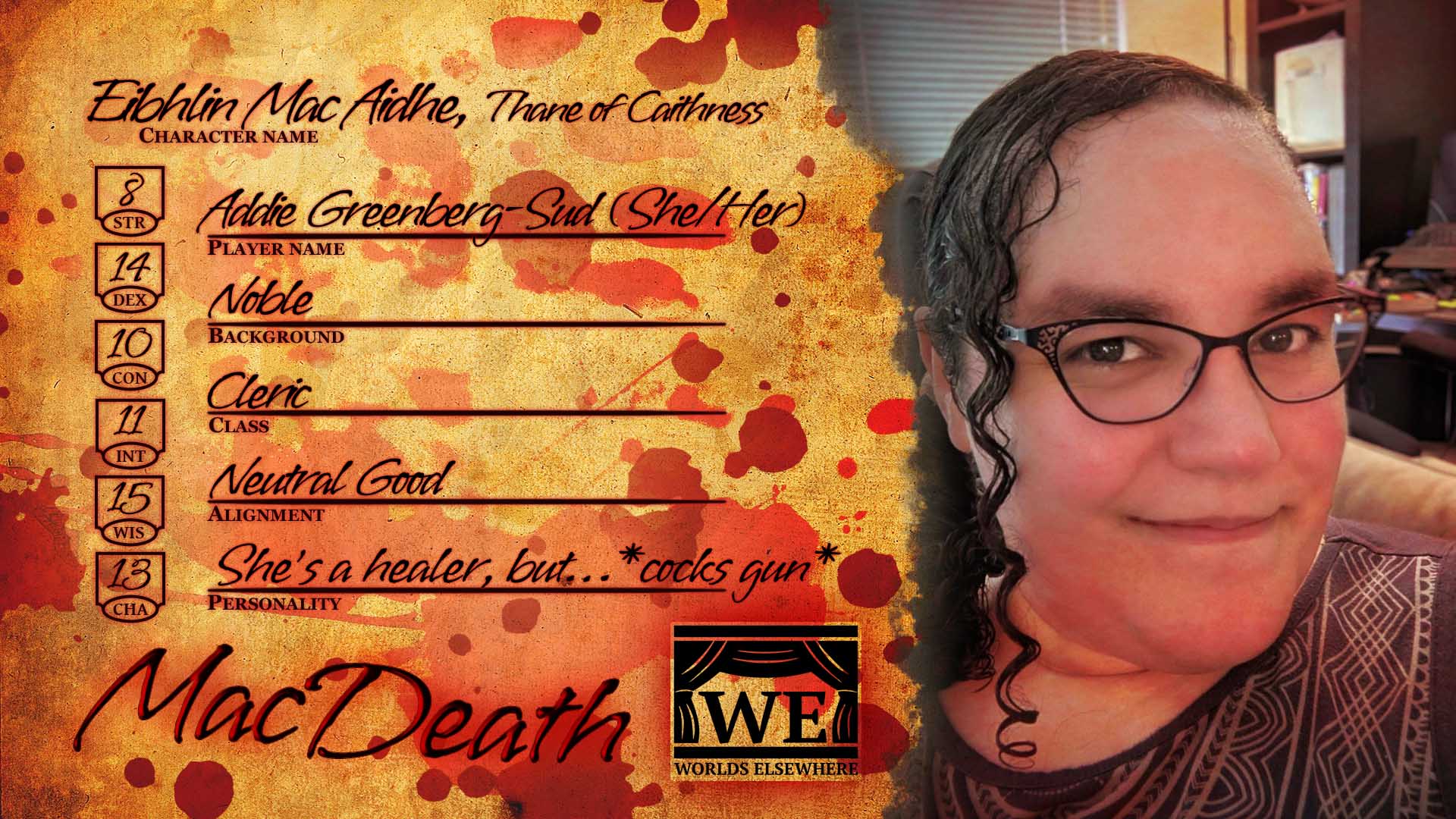 Meredith Cook (sher/her) as Brynn McGill, Thane of Ross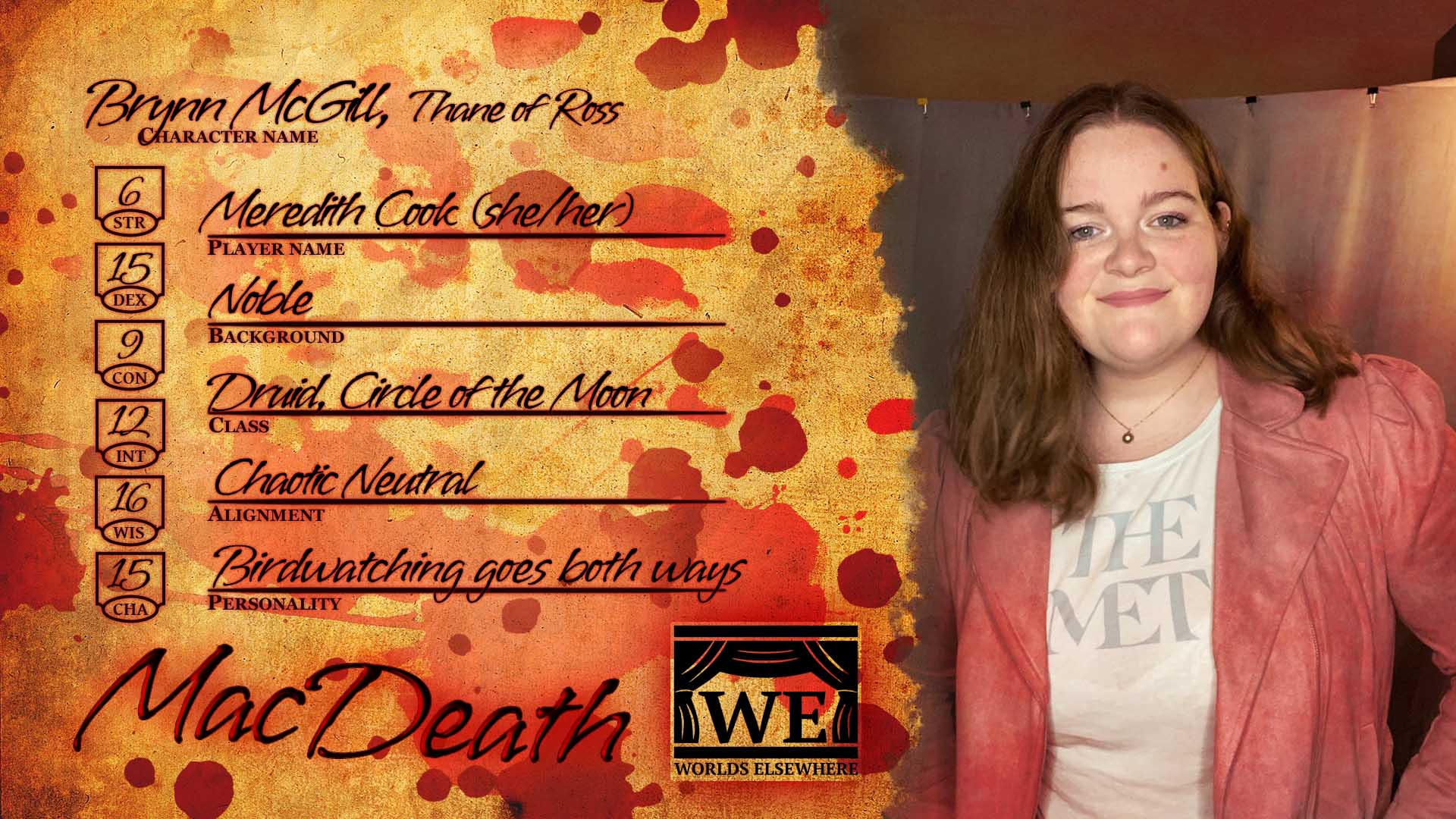 Jamie McConnaughy (she/her) as Dungeon Master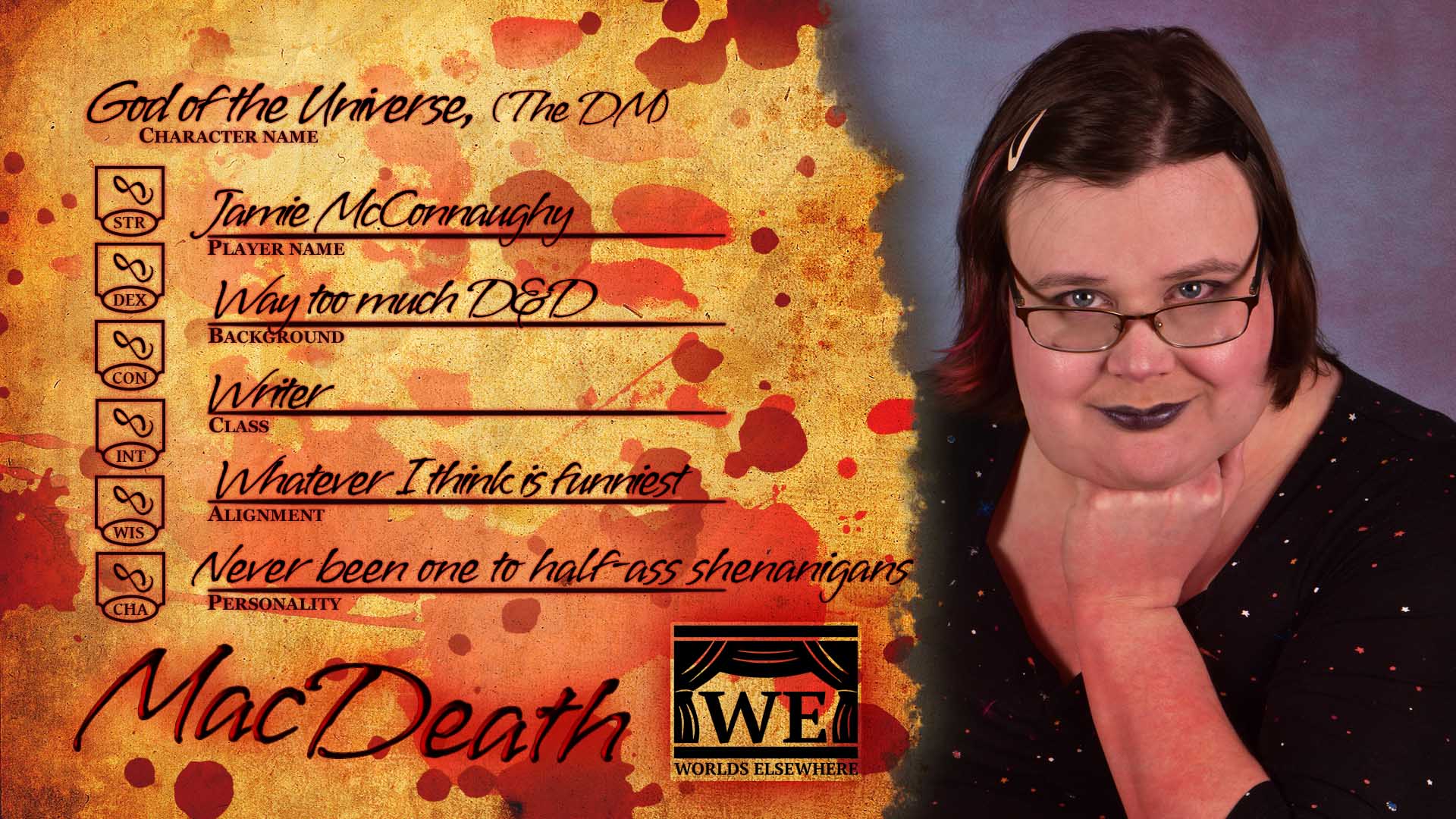 Guest-Starring as Non-Player Characters
Mike Fatum (he/him) as Macbeth
Katherine Duffy (she/her) as Lady Macbeth
River Lane (she/her/they/them) as Banquo and Fleance
and
Bex Silberfein (she/her/they/them), Jasmine Garcia (she/her/fae/faer), and Ilana Greenberg-Sud (she/her/they/them) as the Witches
Production
Director: Jamie McConnaughy (she/her)
Producer: Jasmine Garcia (she/her/fae/faer)
Associate Producer: Ilana Greenberg-Sud (she/her/they/them)
Technical Director: Justin Bailey (he/him)
Technical Advisor: Adrianne Greenberg-Sud (she/her)
About WETC
Executive Director - David Kowarsky
Director of Theatre - Ilana Greenberg-Sud
Director of Digital - Kyle Kallgren
Company Technical Director & Web/IT Manager - Adrianne Greenberg-Sud
Special Projects Manager - Nicole Lopez-Hagan
Worlds Elsewhere Theatre Company is based in New York City and Seattle, on lands home to the Munsee Lenape, Duwamish, and Coast Salish peoples.

Cast and crew members of MacDeath are located on Native Lands including:
Acjachemen
Anishinabewaki ᐊᓂᔑᓈᐯᐗᑭ
Coast Salish
Duwamish
Ho-de-no-sau-nee-ga (Haudenosaunee)
Kaskaskia
Kizh
Massachusett
Mississauga
Mississaugas of the Credit First Nation
Munsee Lenape
Muwekma
Ohlone
Pawtucket
Pennacook
Pentucket
Pequonnock
Ramaytush
Seminole
Tongva
Wabanaki
Wendake-Nionwentsïo

We acknowledge that this land came into government possession through acts of genocide, as part of our commitment to work towards addressing the impacts of those acts in our pursuit of social justice, and to foster a world where such injustices are truly consigned to the past.
Tribe names provided by Native Lands Digital
For more information, consult #HonorNativeLand — US Department of Arts and Culture
Project Attributions
Banner design by Kyle Kallgren
Vujahday Script by Robert Leuschke (Open Font License)
WETC logo by Anna Stacy
Maps: Afternoon Maps, Neutral Party and Battle Scar Maps
Sound Effects: ZapSplat
All other in-game assets provided by Roll20
Greer and Brynn's profile images from picrew
Greer's nonbinary tartan by Amelie McIntee via Reddit
Eibhlin and Fergus's profile images from Artbreeder
Intermission theme: "Yonder Hill and Dale" by Aaron Kenny (YouTube Audio Library)
Donors
Best Boy Fan Club
Amy and Andy Silberfein
Fergus the Slumberer is too Powerful
Ding Dong MacDeath is Dead
Werewolf Removal Squad
Arland Winterbrook
Anonymous
A Hobbit
Christian
Addie & Ilana GS
Laura
FaeRiviera
Anonymous
David Kowarsky
Eowyn, White Lady of Rohan
The Bard (Jamie McConnaughy)
JohnnyFnord
LCC
Henry Kathman
Anonymous