Worlds Elsewhere Theatre Company Presents:
Qui Nguyen's She Kills Monsters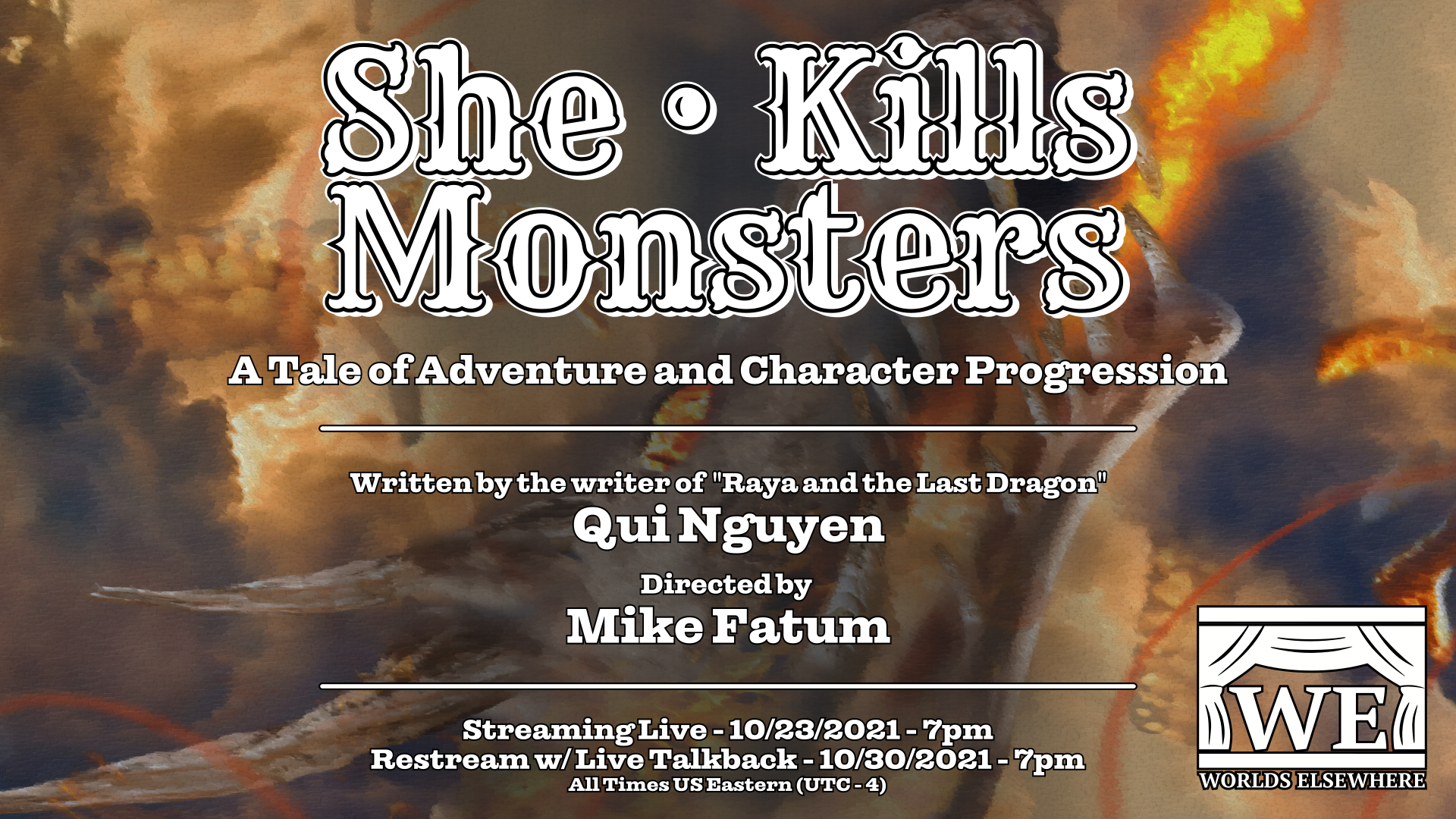 Premiered
She Kills Monsters (Raya and the Last Dragon), written by Qui Nguyen, is the story of Agnes, a young woman dealing with the death of her sister, Tilly, by playing a Dungeons & Dragons adventure that Tilly wrote before her passing. It is a journey of self-discovery set in 1995 Ohio, and features a diverse cast of characters in both the real world, and their fantasy alter-egos, as envisioned by a nerdy 15-year-old girl.
Directed by Mike Fatum, Worlds Elsewhere Theatre Company is proud to announce our Fall 2021 Charity Stream, benefitting Trans Lifeline and Mermaids UK – two charities aimed at providing trans peer support and community care.
Buy Tickets on OnTheStage Now!
RSVP on our Facebook Event!

"She Kills Monsters" is presented by arrangement with Concord Theatricals on behalf of Samuel French, Inc. www.concordtheatricals.com
---
Company Artistic Statement
Theatre, given its nature as a medium made of people in space, has always been a first victim during times of plague.
When the COVID-19 pandemic spread through the world at the start of the year 2020, theatres closed, and millions were left unemployed.
Worlds Elsewhere Theatre Company was founded during this terrifying time. It is our mission to create theatre without a theatre — to create a space online that can serve as a theatrical one. Our company shall create an online space that serves the same function that theatre has served for millennia — as a place of catharsis and healing.
Support Our Charities
This stream is dedicated to improving the lives of transgender people the world over, and supporting two specific charities: Trans Lifeline (US) and Mermaids (UK).
Trans Lifeline is a grassroots hotline and microgrants 501(c)(3) non-profit organization offering direct emotional and financial support to trans people in crisis – for the trans community, by the trans community.
Mermaids supports transgender, nonbinary, and gender-diverse children and young people until their 20th birthday, as well as their families and professionals involved in their care. They also currently offer web chat support to students up to the age of 25. Transgender, nonbinary, and gender-diverse children and teens need support and understanding, as well as the freedom to explore their gender identity. Whatever the outcome, Mermaids is committed to helping families navigate the challenges they may face.
All money from ticket sales or direct donations during this production (after fees) will go towards supporting this season's charities.
If you would like to support WETC financially, please go to our Support Us page.
We understand if you, like many people, are not in a position to offer your financial support at the moment; this is a difficult time. If that is the case and you would still like to support our mission, any of the following steps would be very welcome assistance:
About This Production
As a young nerd, growing up, I wish I'd had a Dungeons & Dragons game to play. I knew about it, but no one in my circle had ever played, and I didn't know of any place you could go to play. My brother bought me a worn, tattered copy of Shadowrun from a yard sale, and I devoured it, cover to cover. When I got to college, and finally started playing tabletop RPGs, the little lonely nerd in me found a joy and a connection that built friendships that last to this day. So, when I first read She Kills Monsters, I saw a show about lonely people looking for a connection, and finding it around the game table, using character sheets and dice. Both Tilly and Agnes find their tribe over the course of this show, and Dungeons & Dragons is just the window dressing for that. These days, we're constantly told that nerdy things are suddenly mainstream, but for every kid out there who feels alone and rejected, I'm glad that finding these games is easier than ever before. Everyone should get the chance to find their family.
~ Mike Fatum, Director
The Plot
She Kills Monsters tells the story of Agnes Evans as she leaves her childhood home in Ohio following the death of her parents and her teenage sister, Tilly. However, in the course of packing up her sister's bedroom, Agnes finds Tilly's Dungeons & Dragons notebook, and is catapulted into an action-packed adventure and a journey of discovery in the imaginary world that was her sister's refuge. Teaming up with Chuck, the local alpha-nerd and Dungeon Master, she sets out to learn as much as she can about the sister she lost through a hilarious and heartfelt journey of dice rolls, sword fights, and found family.
She Kills Monsters was first produced in New York City \ The Flea Theater \ Jim Simpson, Artistic Director; Carol Ostrow, Producing Director
Performers
Rhikki Asahi (Agnes Evans; she/her) is an actress, writer, and director based out of Southern California. Having performed in projects spanning from Shakespeare to psychological thrillers, she loves throwing herself into completely different roles. With a special interest in the realistic portrayal of everyday life, particularly as it becomes stranger than fiction, she's honored to be a part of such a moving and exciting project. Find Rhikki on Backstage.
Melissa Ann Archer (Tilly Evans/Tillius the Paladin; she/her) is an actress based in New York City, who just graduated from Baylor University with a BFA in Theatre Performance. Melissa has been acting and dancing her whole life, and is thrilled to bring Tilly Evans to life.
Matt Medrano (Chuck Biggs; he/him) is a writer and performer from Los Angeles, and he's thrilled to come back to Worlds Elsewhere to play Chuck in She Kills Monsters! You might have seen him last fall in Lysistrata, playing the Athenian Delegate & Skythian #2. Other roles include Robert Sideway in Our Country's Good, and Harry Woods and Jim Geringer in The Laramie Project. When he's not working, you can often find him watching too many movies (you should see his to-watch list!), and wondering what kind of voice his dog would have if he could talk. His money is on Rob Lowe's character in Parks & Rec. He'd like to thank his family and friends for being supportive, and he would also like to dedicate his performance to his nephew. He loves you, kid. Follow Matt on Instagram at matterscorn.
Steven Linhares (Miles/The Cube; he/him) is excited to make his WETC debut as Miles in She Kills Monsters. As a classically-trained actor, Steven has performed in a wide range of theatrical productions, from roles by William Shakepseare to Gilbert & Sullivan to Rodgers & Hammerstein. He received his degree in Theatrical Arts from Modesto Junior College, and has studied performance arts extensively, training in subjects ranging from Operatic Voice and Vocal Training, to Fight Choreography and Stage Combat. He was most recently seen at Stage Door Repertory performing as Milo Tindle in Sleuth and Gary LeJune in Noises Off. Steven is an amatuer musician, playing both the piano and ukulele, as well as a little guitar. He thanks his friends for always being there to support him, even in the hardest of times and he thanks you, the audience, for joining WETC in creating a little magic together that supports such a beautiful cause. Find him on Instagram or Backstage.
Lucy Purnine (Lilith/Lilly; she/her) is a theater artist from Syracuse, NY, and is excited to be a part of her first Worlds Elsewhere production! Lucy is a graduate of Vassar College, where she majored in Drama. She is passionate about physical theatre, and is an avid juggler and circus enthusiast.
Sam de Leve (Kaliope/Kelly; they/them) is a roleplaying performer and variety streamer on Twitch. When they aren't Being Other People on the Internet, Sam enjoys lifting weights, playing games, and avoiding long walks on the beach at all costs. Find them on Twitter @chaikovsky and Twitch @delevely.
Matt DeCoster (Orcus/Ronnie; he/him) has played classical roles including Macbeth, Kent, Coriolanus, and Duke Frederick, as well as performing at Upright Citizens Brigade for eight years. He also worked on Wall Street and used to be in the circus. Find Matt all over the web: @DeCosterMatthew madwithpower.matt mattdecoster.com/ MattDeCoster.
Katherine Duffy (Vera/The Beholder; she/her) is a working writer, but has never acted in anything beyond numerous D&D campaigns…until now! Born and raised in Ohio and a graduate of Ohio University, she still lives in the state with her husband, Conor. The two of them enjoy art, the outdoors, and creating one-page RPGs at Third Country Press. Katherine also loves reading books and sharing them with others via Bookcrossing.
Regan Hicks (Evil Tina; she/her) is thrilled to be a part of this production of She Kills Monsters! She is a native Texan, recent graduate of Molloy/CAP21 in NYC, singer/songwriter, musician, avid animal lover, and D&D nerd. Her previous credits include Nunsense (Sister Robert Anne), The Madison Theatre Christmas Spectacular (Soloist), You're A Good Man Charlie Brown (Sally Brown), and Urinetown (Hope Cladwell). Check out her website and social media (regan_hicks on Instagram) to see what else she is up to!
Claire Chenoweth (Evil Gabbi; she/her) is a Minneapolis-based performer, educator, and poet. A graduate of St. Olaf College and the National Theatre Institute, she also serves as a board member for Table Manners, an online platform for reading and workshopping new plays. Passionate about combat and intimacy direction, she is excited to continue her training and work in both areas. Claire can often be found reading, trying to grow a tomato plant, and talking about how much she loves puppets. Learn more about Claire and her work on Instagram: cclaire_chenoweth.
Jill V Friedman (Farrah the Faerie; she/her/they/them) is a native New Yorker living in Austin. They are absolutely thrilled to join Worlds Elsewhere and use their theatre degree again! They would like to remind you that The Good Friends are not to be trifled with. Find them on Youtube as Mighty Labradoritey, and on Twitter @jvfriedman.
Derek Zakari (Steve/The Great Mage; he/him/they/them) started his career in December of 2020 with his first role in movie The Reading, alongside Mo'Nique. He trained in Meisner with Becky Sharpe in the UK and Practical Aesthetics with Sherrie Peterson of Atlanta's premiere acting school, Drama Inc, where he's found quite the home in comedic acting. As a queer actor and a member of the disabled community (Ehlers-Danlos Syndrome, Autism, ADHD, and OCD), he's found roles among a wide range of characters. Outside of acting, he enjoys cooking, gardening, and playing video games. You can find him online at @derekzakari on Instagram, Twitter, and Facebook.
James Patrick Ketelaar (Narrator; he/him) is an actor currently based in Kalamazoo, Michigan. James is jazzed to return for his fourth production with Worlds Elsewhere, after appearing as Oberon in A Midsummer Night's Charity Stream, Polycharides in Lysistrata, and Octavian in Julius Caesar, James is 1/4 of the all-queer real-play sci-fi/horror podcast Dangerous Times at Chillhaven High, which can be heard anywhere podcasts are found! Follow James on Twitter at @docprofessorman, and follow his show @ChillhavenHigh!
Production
Mike Fatum (Director; he/him) is so excited to be making his directorial debut for Worlds Elsewhere, a company he loves dearly. For Worlds Elsewhere, he's previously appeared in A Midsummer Night's Charity Stream and Lysistrata, as well as both cabarets (to date). Previously, he's directed The Woman in Black and The Mousetrap for Pacifica Spindrift Players, Captain Condom for Piano Fight, and You Can't Take it With You for Calvary Theater Group. He's extraordinarily grateful to have the beautiful wife and darling daughter that he has – thanks for putting up with this, folks; daddy won't have nightly rehearsals for a bit.
David Neubauer (Assistant Director; he/him/they/them) has been passionate about games and storytelling for his whole life, and has tried to bring those experiences with him to assistant directing this production. Worldbuilding and games (of all kinds) share a lot of similarities with theatre, and he is constantly in awe of the amazing cast bringing this vision to life.
Nicole Lopez-Hagan (Producer; she/her) is a San Francisco soprano, who after majoring in history and minoring in music at University of San Francisco went on to earn her MFA in music performance, opera emphasis, at Notre Dame de Namur University (NDNU) in Belmont, CA. She subsequently took part in young artist programs around the world, in addition to singing with SF Bay Area companies including Pocket Opera, Opera San Jose, Chamber Music Silicon Valley, and Stanford Light Opera. She started stage managing at NDNU, before being brought on board the Pacifica Spindrift Players (PSP) production of Gin Game. She stage managed for Mike Fatum on the PSP productions of The Woman in Black and The Mousetrap. She is thrilled to be entrusted once more to help facilitate his vision.
Bex Silberfein (Assistant Producer; she/her) is thrilled to once again work on a Worlds Elsewhere production. She would like to thank the SKM cast and crew for being epic, and the WETC D&D party for teaching her the ropes. This one is for you, Josh. You're the best big brother a kid could ask for.
Ilana Greenberg-Sud (Staff Producer; she/her/they/them) has been playing TTRPGs almost as long as she's been doing theatre, which is saying something. Her preferred class is a firebug mage, but she'll play a puncher/wall when the need arises, and her favorite characters ever were a series of speedsters who had to roll Will saves to not just go if the other characters talked for too long. Oh, wait, this is a theatre bio. :D Ilana is once again ecstatic to help WETC put on a hell of a show, and is very pleased by the confluence of ridiculous events that caused this particular show to be performed at this particular time. Trans Rights Are Human Rights, stay safe sibs, and keep on fighting the good fight.
Adrianne Greenberg-Sud (Technical Director; she/her) is a software developer and digital streamer in Seattle, WA, and in D&D, she's that one player who writes a 25-page tome of character lore and background. She has been supporting Worlds Elsewhere's technological needs since the company's founding in 2020, and first acted as stream technical director for the 2021 Summer Cabaret. She's very proud to offer her skills toward Worlds Elsewhere's mission — live theatre, for everyone, everywhere. You can find her as "pigsflew" on Twitter and Github, or on her website, pigsflew.com.
Ria Lodick (Stage Manager; she/her) is a stage manager in Seattle, recently relocated from the California Bay Area, where she worked steadily as a performer, stage director, stage manager, and children's theater summer camp director for almost a decade. She has a Master of Education in Instructional Design, a Vocal Performance Graduate Certificate with an emphasis in Musical Theatre, and is a NDNU Music Theatre Conservatory graduate. When not dressed all in black, commanding the backstage, she loves the challenge and the art of passing information on to young minds in ways that inspire them to explore their own creativity and passions.
About WETC

Executive Director - David Kowarsky
Director of Theatre - Ilana Greenberg-Sud
Director of Digital - Kyle Kallgren
Company Technical Director & Web/IT Manager - Adrianne Greenberg-Sud
Communications Manager - Laura Varela
Special Projects Manager - Nicole Lopez-Hagan

Worlds Elsewhere Theatre Company is based in New York City and Seattle, on lands home to the Munsee Lenape, Duwamish, and Coast Salish peoples.
Cast members of She Kills Monsters are located on native lands including:

Bodéwadmiké (Potawatomi)
Cahuilla
Coahuiltecan
Coast Salish
Comanche
Duwamish
Ho-de-no-sau-nee-ga (Haudenosaunee)
Jumanos
Karankawa
Kaskaskia
Lipan Apache
Munsee Lenape
Muwekma
Očhéthi Šakówiŋ
Ohlone
Onundagaonoga (Onondaga)
Payomkawichum
Peoria
Ramaytush
Sana
Tongva
Tonkawa
Wahpekute
Yokuts

We acknowledge that this land came into government possession through acts of genocide, as part of our commitment to work towards addressing the impacts of those acts in our pursuit of social justice, and to foster a world where such injustices are truly consigned to the past.
Tribe names provided by Native Lands Digital
For more information, consult #HonorNativeLand — US Department of Arts and Culture
Audio, Music, and Image Attributions

with Graphic Design & Sound Effects by Adrianne Greenberg-Sud
with Artwork by Henry Kathman

"Hush" by Refractory Period, used with permission.
"Razor's Edge", "Spooky Dreamy Pianotime" and "Cinematic Slow Build" by Rowan Hansen
Limit 70 and The Ice Giants by Kevin MacLeod
"Comically Large Map of New Landia" by AveryRaven13 on DeviantArt, used with permission.
"The SKY DRAGONS" from RANT 73 on Flickr.com, used under CC-0 Public Domain.
Scene Backdrop for Chuck's game store thanks to 3 Trolls Games and Puzzles in Chelmsford, MA
Other Scene Backdrops courtesy Unsplash, Pixabay, including:
Additional Sound Effects used under Creative Commons licenses, courtesy of freesound.org, including:
Fonts courtesy Google Fonts, including: