American First Nations in Theatre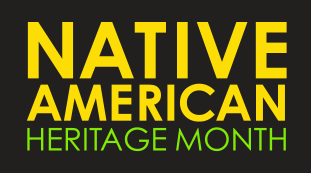 In cultures across the world, theatre as an art form traces its roots back to the practices of ritual storytelling, and this is also true on the land which its original inhabitants call Turtle Island. Those traditions are present today in the works created and presented by the Natives who still call the land home, both as continued reaffirmations of their faith and culture, and in the creation of material for the modern performing arts spaces.
As a socially distanced theatre company, Worlds Elsewhere is unbound by many of the limitations that traditional theatre encounters, but our company still inhabits physical spaces, and many of us are in spaces which were violently stolen from the First Nations and colonized by white Europeans. As part of our efforts to create a theatre that is also a force for social justice, WETC has dedicated November 2021 to give the spotlight to the Native theatre artists of the modern age and the works they have created, and intends to continue this tradition for future Native American Heritage Months.
This list may be updated in the future, so if there's someone in particular you'd like to see, or other questions or comments about this initiative, we encourage you to email us at diversity-equity@worlds-elsewhere.com
WETC is based in New York City and Seattle, on lands home to the Munsee Lenape, Duwamish, and Coast Salish peoples.
A full list of the native lands inhabited by the Repertory will be available soon.
2021 Spotlights
11/5: Announcement
November is National Native American Heritage Month, and WETC will be honoring American First Nations peoples and cultures by highlighting indigenous theatres, theatre-makers, and artists on Tuesdays and Thursdays throughout the month.
For more on NAHM: National Native American Heritage Month
(WETC is based in New York City and Seattle, on lands home to the Munsee Lenape, Duwamish, and Coast Salish peoples.)
11/9: Randy Reinholz (Choctaw)
We'll start our NAHM list with Randy Reinholz (Choctaw), Native Voices at the Autry Cofounder and Producing Artistic Director, Emeritus at the The Autry Museum of the American West in LA. Reinholz is a producer, director, actor, and playwright, including the play "Off The Rails", which is a "Measure for Measure" adaptation that makes the Isabella and Claudio characters Native survivors of the residential school system. You can find out more about his work on his website: Randy Reinholz
This month, Native Voices at the Autry is doing their 11th Annual Short Play Festival
11/11: Code Talkers
Moving a little bit out of our usual spaces today, but in honor of Veterans Day, we'd like to focus on the Code Talkers, groups of often-indigenous peoples who used little-known languages to help the US military transmit coded messages during wartime. Particularly 400-500 First Nations code talkers worked with the US Marine Corps during WWII, including Comanche, Hopi, Meskwaki, and Navajo, as well as others, and the techniques themselves were pioneered by Cherokee and Choctaw peoples during WWI.
Want to learn more? Skip Windtalkers (for your own sake), and watch documentarian George A. Colburn's Navajo Code Talkers of World War II
11/16: Kelly Lynne D'Angelo (Haudenosaunee)
Today's artist is musical theatre book writer and lyricist Kelly Lynne D'Angelo (Haudenosaunee). Half of the writing team Dahan & D'Angelo, D'Angelo is responsible for projects such as "The Count of Monte Cristo: the Musical" and "Starry: a New Musical", about the Van Gogh brothers, from which our own Sam Marchiony sang "A New Horizon" for the encore and credits of our 2021 Summer Cabaret. D'Angelo is also the host for Wizard's of the Coast's "Girls, Guts, Glory", as well as the all-Native D&D game NDND Official on YouTube.
More about Dahan & D'Angelo here: https://dahandangelo.com/
D'Angelo is active on Twitter, discussing both art & performance and politics; there's not enough space here to list all the amazing things she's worked on, so check her out online!
11/18: Hanay Geiogamah (Kiowa)
Today's Native Theatre practitioner is playwright, television and movie producer Hanay Geiogamah (Kiowa). Currently a professor of theatre and playwriting at UCLA, he is considered the first widely known and successful Native American playwright and one of the few Native American producers in Hollywood. He founded the American Indian Theatre Ensemble in New York City in the 1970s and the American Indian Dance Theatre, which toured the world and performed on PBS' Great Performances in the '80s.
Geiogamah worked as a producer on multiple Hollywood projects (Hanay Geiogamah on IMDB), including many projects about First Nations' history. He also served on the National Film Preservation Board, established in 1988 as an advisory body to the Librarian of Congress' National Film Registry.
Check out this great interview with him, done by the The Autry!
11/23, 11am US ET: Muriel Miguel (Kuna/Rappahannock) and Spiderwoman Theatre
Muriel Miguel (Kuna/Rappahannock) is the co-founder of Spiderwoman Theatre, along with her sisters Gloria Miguel (Kuna/Rappahannock) and Lisa Mayo (Kuna/Rappahannock). Spiderwoman Theatre, located in Brooklyn, NY, in 1976, and was the first of its kind in many ways: the first Native American women's theater troupe. The theatre draws on both First Nations traditions and Western styles of performance, blending them to create unique works of art. Miguel also helped found the Native American Theatre Ensemble at La MaMa, and is a choreographer, play writer, actor, and educator, and still works with Spiderwoman Theatre to this day.
Check out this interview with Miguel!
For more about Spiderwoman Theatre, check out their website!
11/23, 5pm US ET: About Day of Mourning / UAINE
For many First Nations people, Thanksgiving Day is a Day of Mourning, of the people, cultures, and lands lost to the genocide perpetrated against the original inhabitants of what is now this country. To recognize this, WETC will go silent on the 25th, and we direct you to check out the work of the United American Indians of New England (UAINE), who host a Day of Mourning Protest (including a livestream) on the day, as well as doing other incredible work throughout the year.
Find out more (and donate, if you can) at UAINE.org.
11/25: Day of Mourning / Thanksgiving
A day of silence to honor all the people, cultures, and lands that were lost to the genocide of the First Nations.
11/26: A List of Native Theatres and Theatremakers
In honor of Native American Heritage Day, we're going to direct you to a list of Native theatres and theatremakers, collated by American Theatre in 2018, as part of the project Staging Our Native Nation. The list is obviously not all-inclusive, but it's a great place to start (and definitely check out the comments, for once): A List of Native Theatres and Theatremakers
11/30: Wrap-Up: Who to Follow on Social Media
Native American Heritage Month may be ending, but the issues raised – of the respect due to indigenous cultures, and the consequences of a history of genocide and other harm that we, as the inheritors of that history, must grapple with – don't go away when the month is over.
If you're interested in taking up the cause, Kelly Lynne D'Angelo (Haudenosaunee) has created an excellent follow list on Twitter.
Keep an eye out on our channels for a round-up of the First Nations theatremakers we highlighted this month, as well as other resources.
12/3: Round-Up and Play List on Website
Native American Heritage Month may be over, but the work continues. Check out our round-up of WETC's 2021 First Nations Theatremakers, which includes a list of Indigenous Theatre works as well. Keep up the work of being an ally all year 'round, and we'll see you next year for more Spotlights in American First Nations Theatre
Collections of Plays
(By no means complete)
"American Gypsy"†
A collection of six plays by Diane Glancy (Cherokee)- Born to a English-German-American mother and an unenrolled Cherokee father, much of Glancy's work as a novelist, poet, and playwright has been driven by her desire to connect with her paternal heritage. She retired from teaching at Macalaster College in 2011. Glancy's other collections are THE SUM OF WINTER, an electronic collection of short plays, and WAR CRIES, a collection of nine plays. The plays in _American Gypsy _span from monologues to one-acts, depicting "the myths and realities of modern Native American life." The six plays are:
The Woman Who Was a Red Deer Dressed for the Deer Dance
The Women Who Loved House Trailers
American Gypsy
Jump Kiss
Lesser Wars
The Toad (Another Name for the Moon) Should Have a Bite
† This is the term that Glancy and the published manuscript use; We acknowledge the term is of antiziganist origins, and is often used to refer to a romanticized idea of a nomadic lifestyle, while overlooking the injustices which forced the Romani people into such a life. Though some Romani people have chosen to reclaim the term from its roots as a slur, others reject it, not wanting to be associated with its continued usage by people outside the Roma community to perpetuate negative stereotypes.
"The Sun Dance Opera"
Lyrics and libretto by Zitkala-Ša (Yankton Dakota (Iháŋktȟuŋwaŋ)).
This is the one of the oldest written pieces of drama by a Native playwright, and incorporates elements of rituals performed by the Plains Peoples. Zitkala-Ša was a survivor of the residential school system, eventually becoming an activist, educator, and prolific writer, documenting many of her nation's stories in prose and poetry. A collection of her works, _Dreams and Thunder: Stories, Poems, and the Sun Dance Opera, _is available on Bookshop, edited by P. Jane Hafen (Taos Pueblo)
Twelve plays by Native playwrights, spanning across the continent and covering thirty years of modern Native theater, Edited by Hanay Geiogamah and Jaye T. Darby.
Lynn Riggs, The Cherokee Night
Hanay Geiogamah, Fog Horn
Native American Theater Ensemble with Hanay Geiogamah, Coon Cons Coyote
Ray Baldwin Louis, Butterfly of Hope (A Warrior's Dream)
Hanay Geiogamah, 49
Wallace Hampton Tucker, At the Sweet Gum Bridge
Spiderwoman Theater, Sun Moon and Feather
Hanay Geiogamah, Grandma and Grandpa
Diane Glancy, The Truth Teller
Bruce King, Evening at the Warbonnet
Annette Arkeketa, Hokti
An anthology of short plays depicting and celebrating different Indigenous interpretations of gender and sexuality, edited by Jean O'Hara and featuring a foreword by Tomson Highway (Cree).
Muriel Miguel (Kuna and Rappahannock), _Hot 'n' Soft _
Kent Monkman (Cree/Irish), Taxonomy of the European Male
Kent Monkman, Séance
Kent Monkman, Justice of the Piece
Waawaate Fobister (Grassy Narrows), Agokwe
"Seventh Generation: An Anthology of Native American Plays"
Edited by Mimi Gisolfi D'Aponte, this is the first anthology of Native plays to be released by a major publication house.
Hanay Geiogamah, Body Indian : A Play in Five Scenes
William S. Yellow Robe, Jr, Independence of Eddie Rose
LeAnne Howe (Choctaw) and Roxy Gordon (Choctaw), Indian Radio Days : An Evolving Bingo Experience
Spiderwoman Theater,_ Power pipes_
Drew Hayden Taylor (Ojibwe/Anishinaabe), Only drunks and children tell the truth
Diane Glancy, The Woman Who Was a Red Deer Dressed for the Deer Dance
Victoria Nalani Kneubuhl (Hawai'ian and Samoan), Story of Susanna
"The works of William S. Yellow Robe Jr (Assiniboine)"
One of the most prolific Native playwrights and theater artists in recorded history. He worked with companies like the Red Eagle Soaring Native Youth Theatre and the Institute of American Indian Arts, while his plays were performed in prestigious venues like the Public Theater and the Smithsonian's National Museum of the American Indian. He sadly passed away following a long illness on July 19, 2021, the day before he was named the recipient of a $40,000 Helen Merril Award_, _for his contributions to the art form.
The script of _Salmon Is Everything, _based on the events of the fish kill in the Klamath River, accompanied by essays written by members of the community and how salmon is at the heart of the Klamath Nation's culture, and the greater environmental impacts of this devastating event. The play was written in collaboration with theatre artist and ecological activist Theresa J May, and includes essays by Suzanne Burcell, Kathleen McCovey, Marta Lu Clifford, Jean O'Hara, and Kirby Brown.
A collection of scholarly articles, performance reviews, and interviews that focus on the many facets of Native theater, edited by Hanay Geiogamah (Kiowa/Delaware) and Jaye T. Darby.